We can't resist the temptation to spread out loud that Saigon Kiss Tours received the EXCELLENCE TRIPADVISOR certificate for year 2018.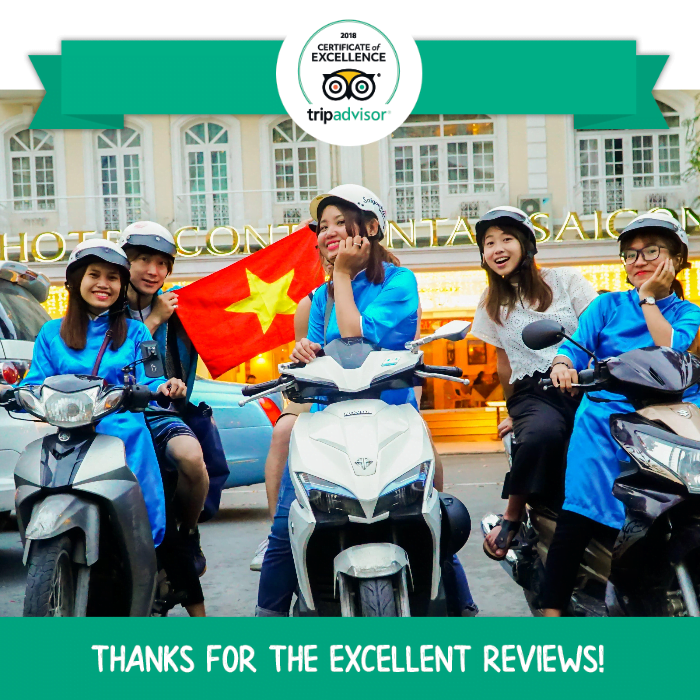 We can't do it alone without your high ranking for us!
This Tripadvisor's certificate is to  is to prove the high quality of our tour services in Vietnam. This award is the result of consistently great reviews from travelers who did the tours with us. And we can't go to the position we are now without your high ranking and amazing words from our beloved customers.
On this occasion, we would like to say THANK YOU for all of our valued customers who choose us and all the people who work hard and play hard at Saigon Kiss Tours.
From a humble beginning to the award-winning local tour operator, we know that we will never stop taking travelers on the upcoming adventures with us. Forget the image of a Vietnam with the endless war, we are very close to pushing the country to a new identity. From there, a rising dragon land with the bright image of the culture, the food and the people shines. Each staffs of Saigon Kiss Tours is a culture ambassador and a bridge between our country and the world.
Thank you travelers for taking a huge part in getting Saigon Kiss Tours to where we are now. Thank you for recommending us for your family and friends.
Planning for a Vietnam trip, get some basic understanding before going with our Vietnam Travel Guide