Ho Chi Minh City is well-known for it endless energy and the paradise of motorbikes. Visting Vietnam for a one month vacation or for a limited time, below is the top things to do while traveling to Saigon for your adventure souls.
Here are the best Things to do in Ho Chi Minh city
1. Visit Binh Tay market
No wonder why Ben Thanh market is so popular as one of the tourist attractions in Saigon. Yes, it's often mentioned in the travel magazines as the city symbol. But if we can give you a suggestion, we would love to recommend a more local market: Binh Tay, where you don't need to bargain a lot to get a good deal and have more local experiences.
Located in the Cholon area of the city, which is Chinatown. If you really notice to the language the locals speak while you move around in the area, you can realize that sometimes they speak Cantonese to each other. During my university time, there was a time I want to learn another foreign language besides English but soon realized that Chinese is not a good choice. Since I can't compete with my Vietnamese Chinese friends who speak Chinese at home with their parents.

There is a lot of unspoken rules among this community that I will write in another article but now let's get back to the food choices in Binh Tay market. From the broken rice Com Tam, the porridge Chao to the special grilled local noodle Pho Xao, you absolutely have endless choices.
Pocket tips:
I have to say that you need a good pair of shoes or sandals for a lot of walking but trust me, it will worth your effort.
Try to get there as early as possible in the early morning. I would love to arrive by 7am but you can be there at 8am. The outside of the market, on Phan Van Khoe street, is very much alive.
Although you can get there by taxi, the bus is available too. Take the bus no.1 from Ben Thanh market. Say to the bus driver "Cho Lon" they will understand what you mean. You will get to  Binh Tay market after 20 minutes. The taxi will take you around 15 minutes with around 200,000 vnd ~ usd $9
Be mindful of your belongings. There are pickpockets around and you don't want to put yourself in the situations that ruin your traveling days.
2. Immerse yourself in the holy Thien Hau temple
If you visit Binh Tay market or once you get to Cholon area, please don't skip Thien Hau temple as this place is just 10 minutes to walk away. Although there are some temples in the city that worship the same Goddess Thien Hau and have the same name, personally speaking, this is the most beautiful temple in town with the ceramics details and interesting structure.
Located in Nguyen Trai which is a busy main street of District 5, entering the temple then all the hustle and bustle seems far away. That quietness creates a holy atmosphere and brings you the peaceful mind, which I love the most. Don't forget to look at the ceramics details that capture the daily lives of this Chinese Vietnamese community. Some of them are about the legends that only appear in the imagination and the movies.
Pocket tips: 
Open hours: 8am to 4:30pm on a daily basic.
Spriral incense: usd $25 ~ 30,000 vnd to get one. Write down your name and the names of those you want the Goddess to bring luck to. Write as specific as possible as there are many people on earth with the same name, make sure the Goddess Thien Hau know who you are. Write down your Facebook or Instagram, for example! (It's a joke)
Outside the temple, street vendors sometimes ask you to buy the small birds so that you can release them. It's a belief that if we release the innocent animals like birds or turtles to their living environment, they can bring good fortunes to us. It's a trap as you don't want them to capture the birds again then sell to another visitor.
3. Visit the historic Cu Chi tunnel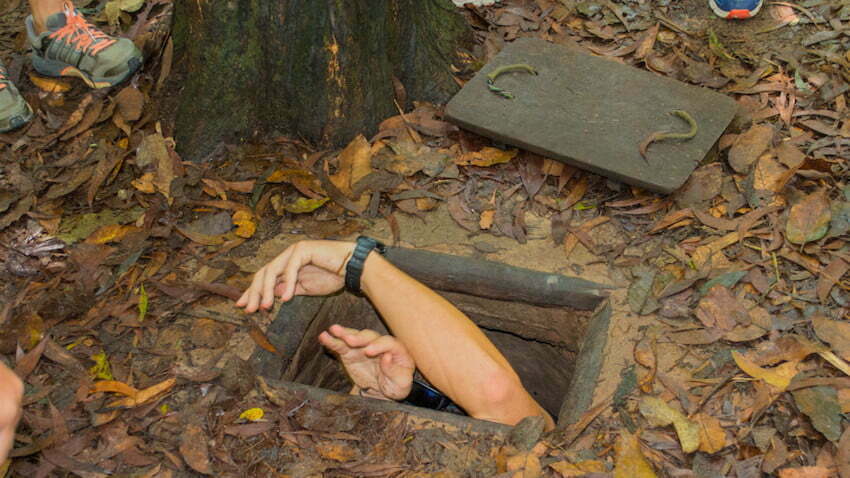 Learn a bit about the long history war of Vietnam  – Photo: internet
As a part of the massive war museum in Ho Chi Minh, Cu Chi tunnel offers visitors a sneak-peek at the underground life of Vietnamese soldiers back in 1948. With over 120km of underground tunnels, trapdoors, living areas, kitchens, storage facilities, armory, hospitals, and command centers, this site worths your visit to learn about the interesting history of this brave country.
It is now one of Ho Chi Minh's most iconic attractions. One of the popular activities, when you arrive at the Cu Chi tunnel is following the narrow routes of the underground tunnel where you see how the Vietnamese people used to live in the past. Before entering the underground tunnels, you watch a short film of Cu Chi Tunnels to understand how the tunnel system works. Parts of Cu Chi Tunnels are also cemented and widened, so that the crawl is less harrowing than it would have been in the past.

Pocket tips:
You may hear about the Ben Duoc and Ben Dinh as two main sites of Cu Chi tunnel. While Ben Dinh is closer to Ho Chi Minh city with only 50km far away, this site is more crowded due to its convenience. Ben Duoc, on the contrary, 70km from Ho Chi Minh city is more worth it if you have one day for Cu Chi tunnel. Less touristic, more to see, you will gain a deep insight into the Vietnamese people in the old times.
Wearing comfy clothes and a good pair of shoes or sneakers is recommended as you will be walking around quite a lot on site.
Did I mention the mosquitoes repellent? Don't forget it, the Cu Chi tunnel has a lot of bushes that you will need it, especially during the rainy season when there is a lot of mosquitoes.
There are shooting ranges for travelers in Cu Chi tunnel. Buy some bullets and give it a try.
4. See the floating life in Mekong Delta
In Mekong Delta of Vietnam, some locals spend their entire life on Dthe floating market and their boats have become their house, it's no joke! While there are some floating markets, Cai Rang market stands out as one of the largest floating markets. Around 350 boats sell a variety of fruits and vegetables among other things, attracts 500-700 tourists every day, most of them foreigners.
Cai Rang market is a big wholesale market and the must-see place for travelers when visiting Can Tho. The market starts at 5am and becomes crowded at 6am. Cai Rang is also famous for being the largest fruit selling hub, specializing in exotic fruits such as Nam Roi grapefruit, Vinh Long pink kiwi kumquat or Cai Mon durian.
Similar to the other floating markets, produce from the local area are hung on top of a long bar to showcase and attract customers.
Interestingly, you can have breakfast served on boats with plastic chairs available, which turns it into a makeshift restaurant. Although a typical breakfast in this area will consist mainly of dishes such as rice noodle and soups, if you wander around and explore further, you will have a lot of invitations to buy local traditional snacks from coconut-leaf-cake to corn or banana pancake.
While visiting Cai Rang market, you will become immersed in the true spirit of commercial water culture. All that remains for you to do is to enjoy the floating feeling, watch the sunrise behind boat roofs and get a feel for the busy local life.
Pocket tips:
To visit the market in their best time, you need to make sure that you wake up at 5am then head to the market right away. The selling and buying is busiest at 6pm. Don't go there at 7pm as there is less thing for you to see when the sun goes high.
Transportation: The easiest way to get here is to take bus from Ho Chi Minh City to Can Tho. You can book a one-way ticket at vexere.com with lots of bus choices, priced from $5. Cai Rang floating market is only 6km away from the city center and around 30 minutes by boat from Ninh Kieu station.
Boat rental: about $15 for a private boat to visit the market
5. Ride like a local in the hustle and bustle of the city
It's not an exaggeration when saying that Saigon is the paradise of motorbikes. You know why riding across Vietnam sounds like an interesting thing for young backpackers? Well, nobody can resist the beautiful scenery, the crazy and chaotic traffic and the kind people you meet along the way if you use this vehicle to travel. All these things make riding a motorcycle in Vietnam one of the best things you will ever do. While riding a motorbike in Vietnam seems exciting, very few people can make it true due to limited time. An alternative way to get the same experience within just a few hours is to go with a motorbike tour operator. Does it sound cool?
Driving a motorbike in Vietnam is not easy but it's a once in a lifetime experience with the benefits of fully experiencing the local life and exploring hidden gems and get the feeling of liberation. I'd strongly recommend that you should spend at least two or three hours on a motorbike because what the experience brings about, is far more than what you could ever imagine.
While there are quite a few of tour operators who are doing this kind of tour,
Saigon Kiss Tours
worth a try because all of the riders are female. And you know what, women drive the motorbike much more slowly and carefully than men.
Pocket tips:
Wear comfy clothes when driving, prepare for yourself safety equipment if you drive by your own
Avoid shiny or expensive jewelry when driving.
Do it with a local motorbike driver if you are not really confident about your driving skill. They are expert in navigating the street.
6. Explore the nightlife of Saigon
Saigon, the old name of Ho Chi Minh city has a long reputation for its nightlife and entertainment – one that far precedes the country's influx in tourism. Whether you're looking for a high-end party or a street side brew, there's something to be found for everyone in this southern hub. Spend a night and explore the lively Saigon by night.
Saigon is a city that doesn't sleep. With travelers coming in and out at all times of the day, there's always something going on; someplace somewhere is buzzing with activity. From pickup fresh beer stalls and musty pubs to the effervescent Pham Ngu Lao and Bui Vien regions, locals and foreigners are always ready to get into some excitement.

When thinking about which areas you should head for the nightlife, Pham Ngu Lao and Bui Vien area are famous for the home of backpackers. The area has a large collection of budget-friendly hotels, restaurants, and bars that cater to the penny-pinching traveler.
Perhaps the most popular area to stay in the city, you can find just about everything between these two streets, from upscale eateries and wine bars to street food carts, 10.000 VND beers, dried squid vendors, and much more.
Looking for a drink with a view? Saigon has a number of stunning sky bars that overlook the giant city sprawl. If you are looking for sky bars, try EON 51, located in the Bitexco building- Ho Chi Minh's skyscraper that appears like a diving board in the middle of the downtown. Additionally, the Rex, Caravelle, and Sheraton Hotels host some great views, as do a few bars located along the Bui Vien region. Keep your eyes open for flashing lights at the peak of a building… that's where the party will be!
A visit to Saigon is not complete until you spend an evening on the street side here: sipping ice-cold beer, eating the local fare, watching the world pass by before you all while sitting on miniature plastic chairs at a miniature plastic table. Travelers from all parts of the globe congregate here to relax, have fun, and interact… so enjoy being part of this global melting pot, if only for one night.
Pocket tips:
While Saigon at night is an essential part of the Vietnam travel experience, do be wary of your belongings at all times. The city is growing to become quite infamous for its petty theft and bag snatching. Don't let a bad night ruin your entire trip!
Although it's very easy to stay out until the sun comes up in Saigon, do be cautious with how you spend your evening. The later it gets, the more unsightly the crowd becomes. Pickpockets, carefully-schemed thefts, and purse/valuable snatching have been known to occur to the unsuspecting late-night dwellers, who may have had one too many Saigonese to know what's going on. Be sure to keep your wits about you, even if you are staying out 'til the wee hours.