Reading all the articles and posts about the safety tips when traveling to Vietnam can make you a bit doom. The speechless scenery, UNESCO natural heritage sites worth it, nice people but scammer targeting tourists are also common. You may heard about the aggressive sales behaviors, bag snatchers, massage scammers,… But hold on, is Vietnam safe to travel in 2019 and what is the safety tips to visit Vietnam?
Is Vietnam safe to travel in 2019?
To my surprise, a lot of people ask me "Is Vietnam safe to travel in 2019". Since the country is listed among the safest destinations in the world according to the most updated report of the Travel Risk Maps. My answer is Yes, a huge YES! But since the country is still in the third world class, we can't expect everything nice. Even in your home country, things are not always as bright as we expect. So my mission is this article is to provide you with safety tips when traveling to Vietnam and enjoy the best of this beautiful country. Most of the advices is very universal and can reserve not only to Vietnam but any country you travel to. The good news is: Terrorism in Vietnam is almost non-existent.
Don't leave your valuables in an unlocked suitcase in the airport
All of your valuables should be in your backpack or bags on you all the time. Only leave things you are willing to lose when the suitcase or bags are out of your eyes. This rule work for both the travelers and the Vietnamese locals. The luggage handlers in Vietnam airport is not to trust since some of them were reported for stealing property from the passengers.
This personal safety rule is not applied for Vietnam only, but for any country in the world and on any vehicles. Whether it is by plane or bus. Personal documents like passport you can keep it safe in your hotel and it needs to be separated from your other valuables.
Don't leave your valuable belonging at your hotel
Safety and security is better if you stay in the reputable hotels. Hotels and even travel merchants absolutely don't like to receive the bad reviews about their service once there are door break-ins at their hotels which causes the loss of their customers. But in case you stay in hotels on a budget, make sure that you put your valuables in a locked suitcase or bring it with you to avoid the loss.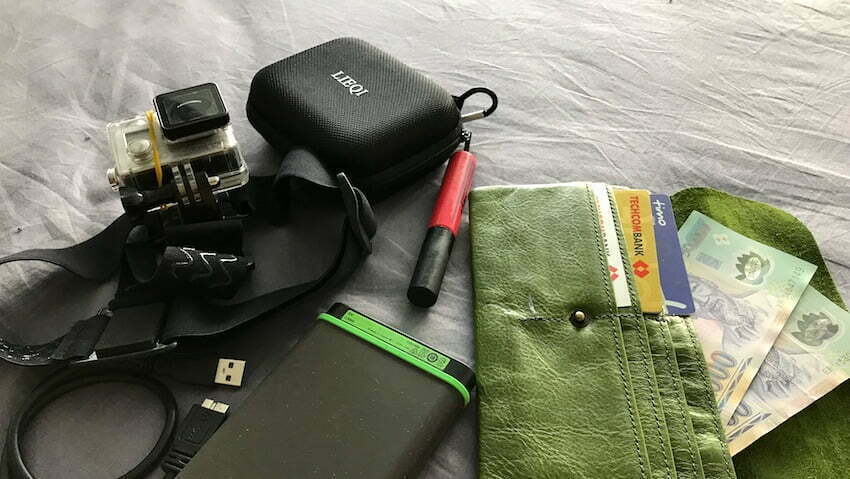 Don't Carry Your Bag With Thin Straps or open pocket
Leave all bags with thin straps at home and only carry those with decent strap and wear it around your chest, not one side shoulder, and not on your left side if you are a right-handed person. Bag snatchers don't have the chances if you are aware of that.
Don't drink too much to lose track of everything around you
Spending a night with the local beer in the backpacker areas Pham Ngu Lao / Bui Vien street can be a fun thing to do with your travel buddies but imagine that you are drunk and your smartphones, wallets is in your open pocket. That's when you go panic that you lose your stuff after a drinking night.
Don't take a ride from the Xe Om Motorbike drivers
The touristic the areas are, the more possible you get into the motorbike scammer. Luckily for you that Vietnam now has Grab, a car and motorbike taxi apps similar to Uber that you can trust. There are kind Xe Om drivers but if you want to totally avoid the trouble, stay away from them. They are for the photo models when you traveling, not for a ride.
But most travelers who visited Vietnam give you the advices of doing a motorbike tour in Vietnam, especially in Ho Chi Minh city, they are right. Motorbike tour operators are the ones you can trust due to the training of the drivers and their good English to be fun with.
Read more: How to get around in Ho Chi Minh city
Don't give money to the beggars
Since you are in a new country, no matter how friendly you are, you still need to exercise caution. Danang city is very clean and nice. But Hanoi and Ho Chi Minh city have beggars and lottery ticket sellers on the street.
My advice is that you should just say "Khong! Cam On!", which means "No! Thanks!" then look somewhere else or walk away before they pull your shirts or nudge you. Avoid giving them money or the sign that you are having too much sympathy. Most of the beggars are old, disabled and harmless but if you want to do a charity, better look for the orphans or NGOs that work for a cause.
Read more: How to stay away from the travel scams in Vietnam.
Last but not least, try to get out of the city center to see more of the country. Making local friends is not for everyone but if you want to engage with the local people. I wish you travel to Vietnam and have nothing but the wonderful experience.
Haven't booked accommodation yet? There are some of the
best hotels in Ho Chi Minh city
with very good price you might want to lie your back on after a traveling day. A trustworthy hotel will help you out of the trouble in terms of safety and security. Make sure you book a good one.